The popularity of GIFs on the internet is unwavering. They're straightforward, always relevant, and appropriate in practically any circumstance. Since they're so adept at capturing the spirit of the moment, many businesses are using them to make more engaging posts and content for Instagram Stories.
"But it's just an animated image." Before you underestimate the power of GIFs, let me give you an example of a company who's achieved millions of views thanks to GIF Marketing—Later. This Instagram marketing service created 24 customized GIFs and had over 16 million views in only one week. Yes, millions…in one week.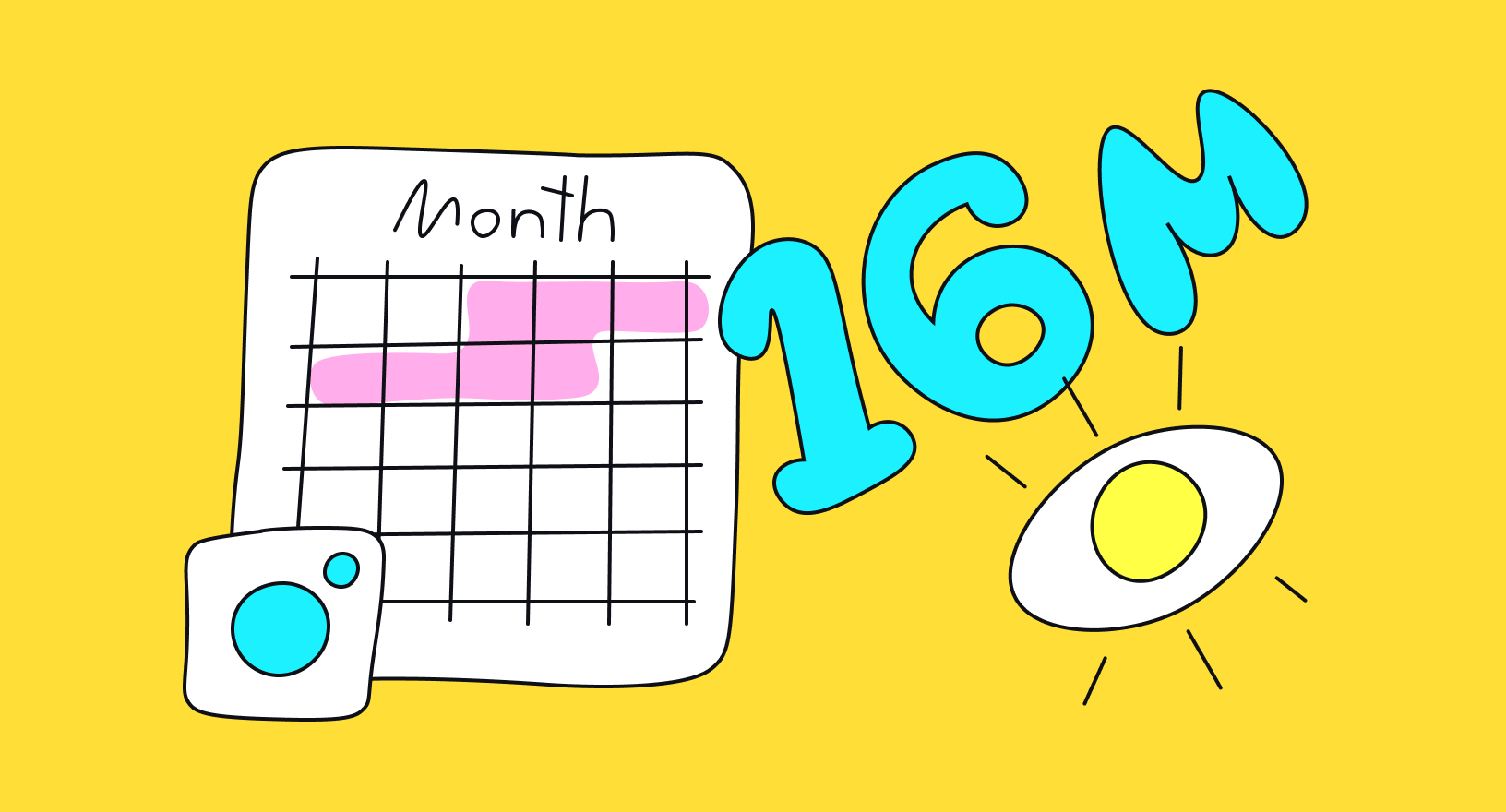 But how simple is it to actually make GIFs that represent your business? And how can you use GIFs to add flair to your brand's Instagram stories? Let me guide you through the process of creating stunning GIFs and implementing them in your Instagram stories to generate buzz around your business. Ready, set, go!
The different kinds of GIFs
If you use social media at all (and who doesn't?), I'm sure you've seen every kind of GIF there is. But just in case you haven't, let me give you an overview of the three types of GIFs you can make:
The standard image GIF: two or more images can be used to make this type of GIF. It's the simplest kind of GIF.
The animated GIF: this is pretty self-explanatory. These are not still images, but animated GIFs, which can be of two types:
Gifs with background: yes, you can hire an animator to make an animated GIF with a background. But you can also make this kind of GIF with just brand videos. You can turn a video into a GIF by uploading the videos and adding captions.
Gifs without background: aka "stickers" on Instagram are animated GIFs that don't have a background. These types of GIFs can be added to videos and photos without making them look weird because they have a clear background. These are the kinds of GIFs you need to make to allow Instagram users to use them.
GIFs with sound, also known as GIPHY Clips, are the most recent kind of GIF. Right now, they're only available on TikTok. This format adds sound to GIFs. For the moment, they can only be created by verified accounts that own the sounds, but you can use them in your TikTok marketing strategy.
How to create GIFs
The process of making GIFs is not particularly complicated, and there are a number of free internet websites that you can use. But before we get into the specifics of how to create your GIFs, here is what you'll need:
A plan of the kind of GIFs you intend to generate and the reasoning behind your decision. As in every marketing strategy, you don't improvise, you plan. During the process of putting together your GIF collection, your brief will prove to be a very helpful guide. It's a good idea to make your GIFs part of a campaign and feature them in your Stories. You will be able to monitor the level of interaction that a particular campaign receives as a direct result of the effectiveness of your GIFs using this method.
A selection of content that will be converted into GIFs. This might be video or still images that you want to turn into GIFs later on. Stick to the content that you own as a brand in order to prevent any difficulties linked with copyright.
Creating a static GIF
On most web platforms, the process of producing your own GIFs is broken down into four parts. In this example, we will be utilizing EZGIF.com. We've decided to go with EZGIF.com because it's one of the few online GIF creation platforms that lets you personalize your GIFs with text, filters, overlays, frames, and more. This was a major factor in our decision.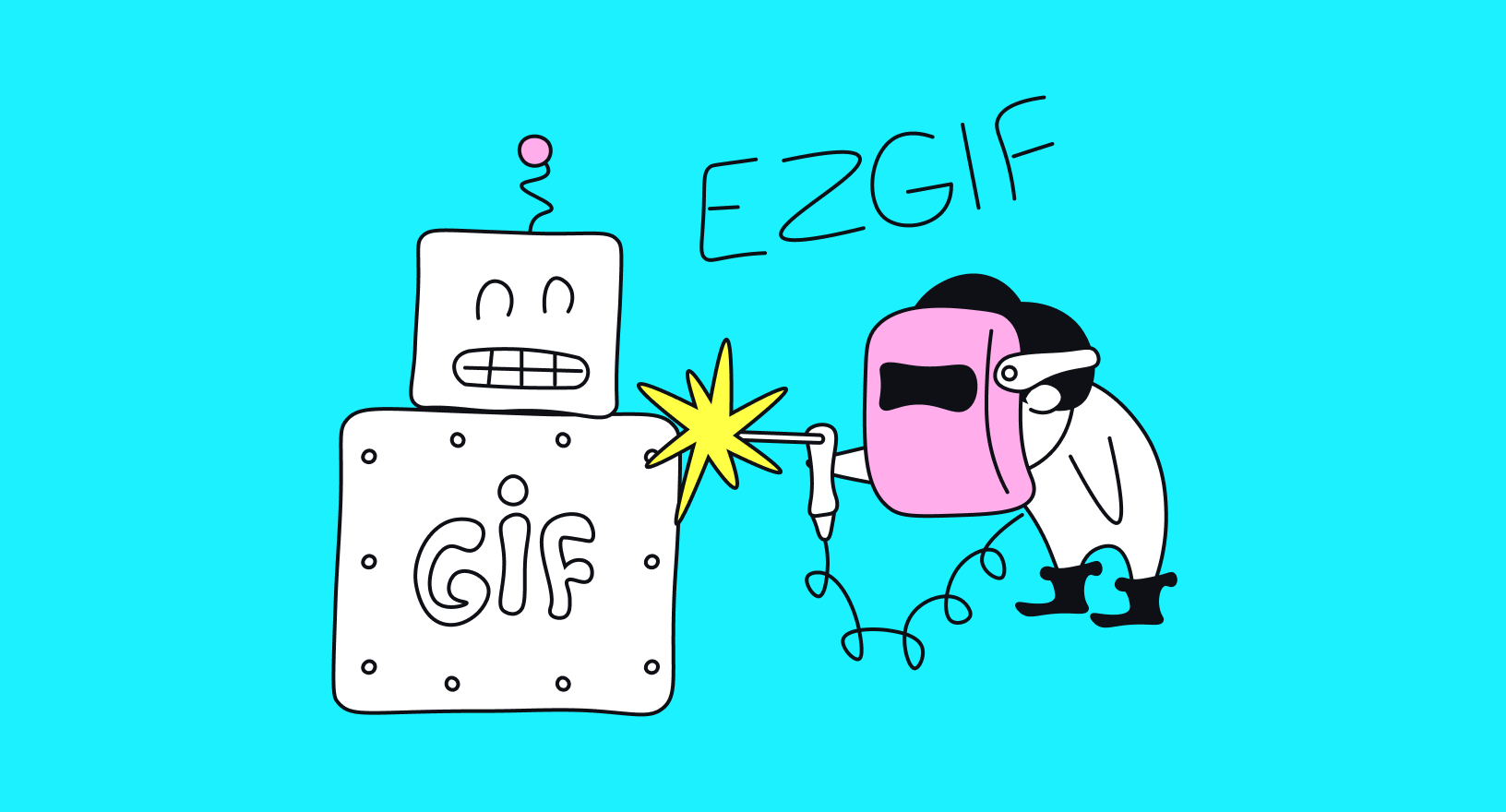 Step one: Locate your content. This can either be a URL to a video or a collection of photos. When you have your content in hand, the next step is to post it to the platform of your choice.
For the purpose of this example, we have downloaded two images from Pixabay that do not require a license (always search for free commons). After you have chosen the images, pick "Upload and make a GIF!" from the drop-down menu.
Step two: the second step is to configure your GIF's animation speed, its duration, and its starting places. You may be offered even more options depending on the GIF maker's features.
Like in most GIF makers, you have the ability to rearrange the order of your images on EZGIF.com, as well as choose the number of times your GIF should loop, utilize a global colormap (which uses the same color for each image in your GIF and also reduces the size of your GIF file), and add effects.
Step three: in the third step, you will preview your design and, if needed, you can make any adjustments. The new GIF you created could require a little altering, in which case the customization capabilities that were discussed earlier will come in handy.
Step four: once you have finished making any necessary changes and adjustments to the GIF, save it to your computer so that you may access it later.
Are you looking for a free GIF tool that you can use online? Here's our top five recommendations for GIF makers based on their customization features:
2. Giphy
3. Make A Gif
4. ImgFlip
5. GIFPAL
Creating a static GIF without a background
If instead you want to create a GIF without a background using static images, you can resort to online picture editing applications that will allow you to do this. Even though there are a lot of options, the one that we've discovered to be the most effective is Remove.bg.
How to Use Remove.bg to Remove Backgrounds from Images
Remove.bg is able to remove the backgrounds of images with just a few clicks thanks to the use of artificial intelligence. The fact that the editing was done so accurately was a nice surprise for us. You may think it's straightforward but trust me, many websites end up taking out chunks from the image that you wanted to keep. So using this tool allows you to get smooth edges without wasting time.
To use Remove.bg, go to the website and upload the image that you want to remove the background from. The website will then process the image and remove the background. You can also use the Remove.bg app to remove backgrounds from images on your mobile device. After your image has been saved and uploaded, you will have the opportunity to download it in a number of different resolutions. Once you have finished saving your new image, you will have the option to include it in a collection that will be used to create a new GIF.
To use the app, download it from the App Store or Google Play. Then, open the app and upload the image that you want to remove the background from. The app will then process the image and remove the background.
How to create animated GIFs with a background
Animated GIFs that have backgrounds can be created with very little effort. You will only need the video that you want to convert into the GIF in order to do it and voilà!
How to create animated GIFs without a background
Compared to creating regular GIFs, making animated GIFs without a background involves a little bit more work. Because animated GIFs are derived from videos, removing the background from a video can be somewhat difficult and even intimidating if you aren't familiar with the software used for video editing. If instead you do have experience with video editing software, the process should be relatively straightforward.
There are a few ways to create animated GIFs without a background. One way is to use an online service such as ezgif.com. This site allows you to upload your image and select the transparency option. Another way is to use a graphics editor such as Adobe Photoshop. With Photoshop, you can create a frame animation, and then export the frames as a GIF file.
Creating GIFs from videos you have edited
After you have obtained your video in which the background has been removed, you can begin the process of developing your new animated GIF. You should now go to the GIF tool of your choice in order to upload your video. Follow the instructions, and you should end up with a GIF.
The procedure only takes a few minutes, and once it's done, you'll have the opportunity to personalize your new GIF with text, filters, and other components.
How to get your GIF Stickers to appear on Instagram
Once you have your brand-new GIF in hand, the next thing you need to do is upload it to the internet and share it on Instagram. At this time, Instagram only collaborates with one third-party GIF platform—Giphy. This implies that if you develop a GIF and want it to become searchable, usable, and popular, you will need to upload it to Giphy's platform in order to make those things happen.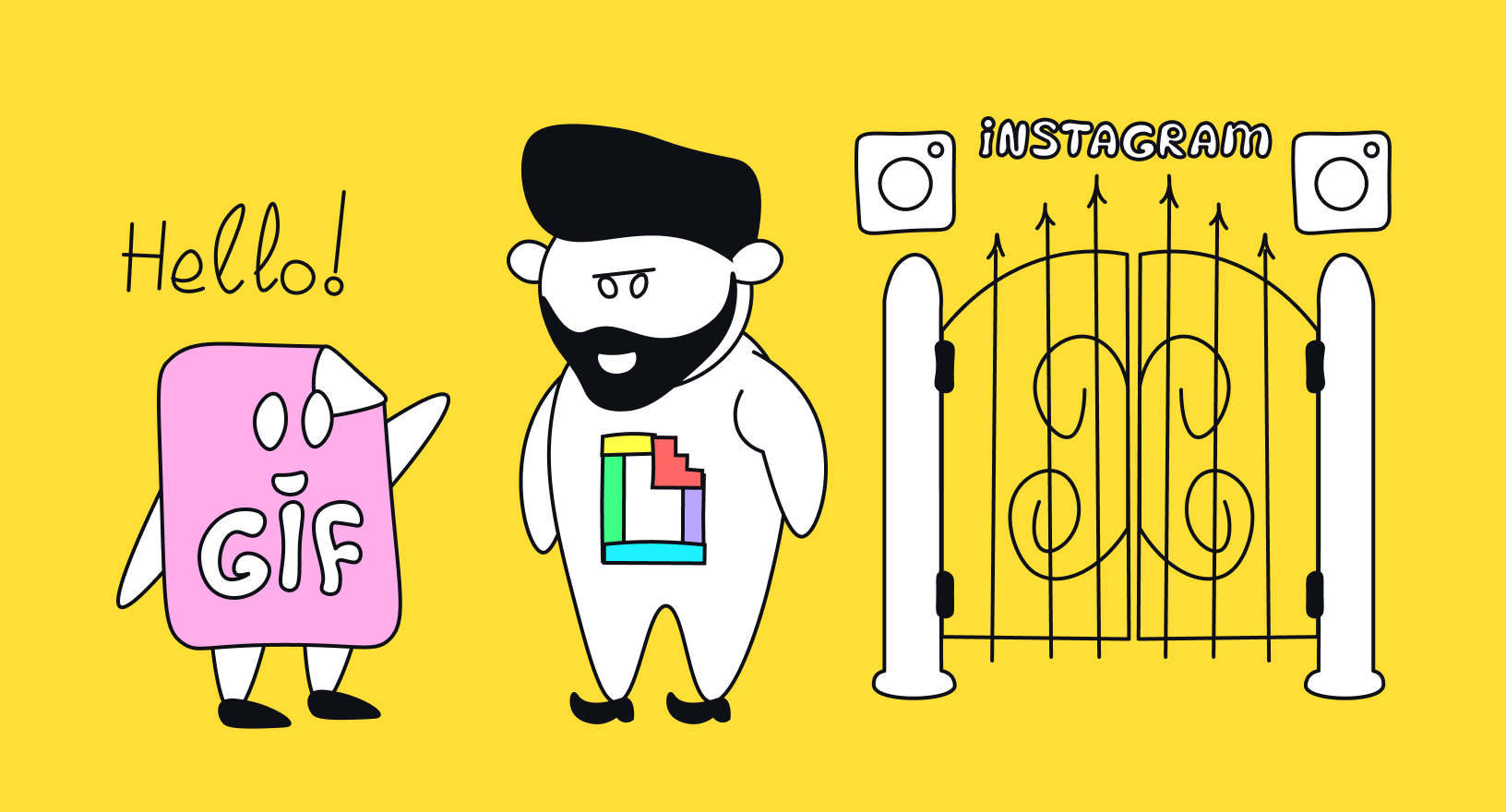 Although creating a Giphy account isn't particularly difficult, getting your account authorized can take anywhere from a few days to a week.
How to apply for a Giphy Account
A Giphy account can be created in one of two methods, depending on your preference:
Become a branded channel: this option is available to any business, music artist, actor, or public figure that has developed content that they own and control.
Apply for an artist channel: these channels are reserved for artists who wish to share GIFs. If you are an artist, there are a few specifics that need to be addressed before you can develop a branded channel, which is eventually required of you.
Using GIPHY to create, upload, and download GIFs is something you can do as soon as your account has been verified and approved. You are not required to have a Giphy account in order to generate GIFs with Giphy; but GIPHY does recommend that you register an account so that all of your GIFs may be stored in a single location.
Note that once your account has been verified, you will have the ability to commission Giphy artists to produce one-of-a-kind GIFs specifically for your company. Giphy has gone above and beyond to guarantee that its users are able to collaborate as simply as possible by offering its users with basic directions on how to employ a Giphy artist. This is just one of the many ways that Giphy has shown its dedication to its people.
You only need to search for GIFs that pique your interest, find the artist(s) who created the GIF(s) that you enjoy, and communicate with them directly to form a connection.
A helpful hint is that artists charge for their services, and in order to get the most out of them, you should be sure to provide them a rate that is equitable. Tagging the artist who created your GIFs is also suggested once the GIFs have been developed by an artist. If you haven't heard of GIF artists yet, check out our selection of the top 20 GIF artists to get an idea of what they can do for you!
Stickers and Animated GIFs
When it comes to using them on Instagram, GIFs are referred to as stickers. What exactly is a sticker, then? Simply a GIF that does not have a background.
How to upload stickers to your GIPHY channel
Here's a rundown of the steps to configure your GIFs within your Giphy account:
Choose the new stickers you'd like to upload from within your Giphy account, and then click "Upload."
Adjust the ranking of the stickers that appear on your Giphy page to suit your needs.
You may make it simpler for more people to find your stickers by including tags on each one. You should use commas to separate each tag, and you have the ability to construct tags that are applicable to all of the stickers.
Simply completing the process by clicking the button labeled "Upload"
The importance of tags
If you read our article on GIF engine optimization you already know how crucial this step is.
The GIPHY algorithm sounds easy, but the problem is always the same: there is lots of competition. In general, you should use keywords that describe your content and are related to it. You'll also want to add a few keywords that are related to your brand, but don't expect them to bring you any attention... Most people won't be looking for your brand when they search for Gifs. But, it will be easier for you to find your GIFs on Instagram if you include your branded keywords. Along with your branded keywords, you should also think about keywords that are related to your product and the feelings that go along with it. For example, if you have a sports brand, you might want to use words like "champion," "athlete," or "fit" to describe how you want people to feel when they wear your products.
Use your imagination, but try to keep the number of words you use in each tag to a minimum in order to improve the likelihood that your stickers will appear in relevant search results. Include information that pertains to the subject's name or the task that they are carrying out.
Include catchphrases that you are aware are popular or that you have seen used on other stickers and GIFs that are comparable to the ones you are creating.Make use of tags that provide a description of the colors that were utilized in the sticker as well as any other topics that are linked with the sticker.
And as a final note, try to make sure that each GIF or sticker you publish has at least 10 tags associated with it. It can seem like a lot, but the point is to get people to get familiar with your brand, and the only way to accomplish that is to make sure that your GIFs are searchable on the internet.
Enhancing the quality of your Instagram Stories using GIFs
It's time to put those GIFs and stickers to use now that you've designed them and generated them. Here are three suggestions on how to use GIF Stickers to boost your Instagram Stories:
1. Include a call to action on typical animated GIFs
Smart marketers are aware that telling an audience what they should do next is one of the easiest ways to convince them to take action on something. You will be able to pique the interest of your audience and convince them to take action if you utilize a basic picture GIF that has been thoughtfully prepared, along with an enticing offer and a sticker that serves as your call to action.
2. Make your text stand out
Switching your material from images to text may be really helpful, particularly if you need to express precise dates and times for events and activities that you want your audience to be aware of. When people browse through your stories, adding captivating stickers that draw attention to specific elements that you don't want them to miss is a great way to draw attention to the words that you want them to see.
3. Be Strategic
When they are placed into content, stickers function exceptionally effectively. Your viewers will have something resembling an enhanced experience as a result of this. Your followers will be able to notice a strategically placed and pertinent sticker that, when added to an otherwise flat image, can make it stand out.
Wrapping up
It's not an overstatement to say the use of GIFs paves the way for an entirely new universe of possibilities for brands and branding. You will be able to develop brand awareness and drive the kind of engagement that your company needs to have in order to guide your audience along your buyer's journey if you have the appropriate collection of GIFs. But, you will need to do your research in order to make captivating GIFs. Always come prepared with a thorough brief and clear goals. When it comes to marketing endeavours of any kind, the only thing that can be quantified is what is tracked. Using the advice we gave you, get creative when including GIFs and stickers into your ads so that you can attract the attention of your target audience.
Frequently Asked Questions
How do you make a personalized GIF on Instagram?
To make a personalized GIF on Instagram, first open the Instagram app and tap the camera icon. Select the "GIF" option and choose the desired background and text. From there, you can customize the text, color, and size. When you are finished, tap the "share" button to save the GIF and share it on your Instagram story or feed.
How can my branded GIFs appear on Instagram?
Creating branded GIFs for Instagram is a great way to increase engagement and build brand recognition. To make a personalized GIF, start by creating a short video or animated image. Then, use a GIF maker to add text, filters, and other features to the image. Once the GIF is complete, upload it to GIPHY or another GIF library and use the URL to share it on Instagram. Additionally, you can use the Instagram Stories feature to create and share GIFs directly from the app.
Where does Instagram get their GIFs from?
Instagram gets its GIFs from GIPHY, a popular online library of GIFs.