GIFs have been around for a while, but they've only recently become popular on social media. And one of the most popular places to share GIFs is, well… Instagram. If you're an Instagrammer who is posting a story and wants to add a splash of humor, GIFs are the perfect answer. All you have to do is select the GIF button, search for a specific keyword and pick from the selection of GIFs that pop up. But this is when it gets interesting for brands—did you know that you can make your branded GIFs available for Instagram Stories? Meaning that any user on the platform will be able to post your branded GIFs on their Instagram Stories? No, we're not joking.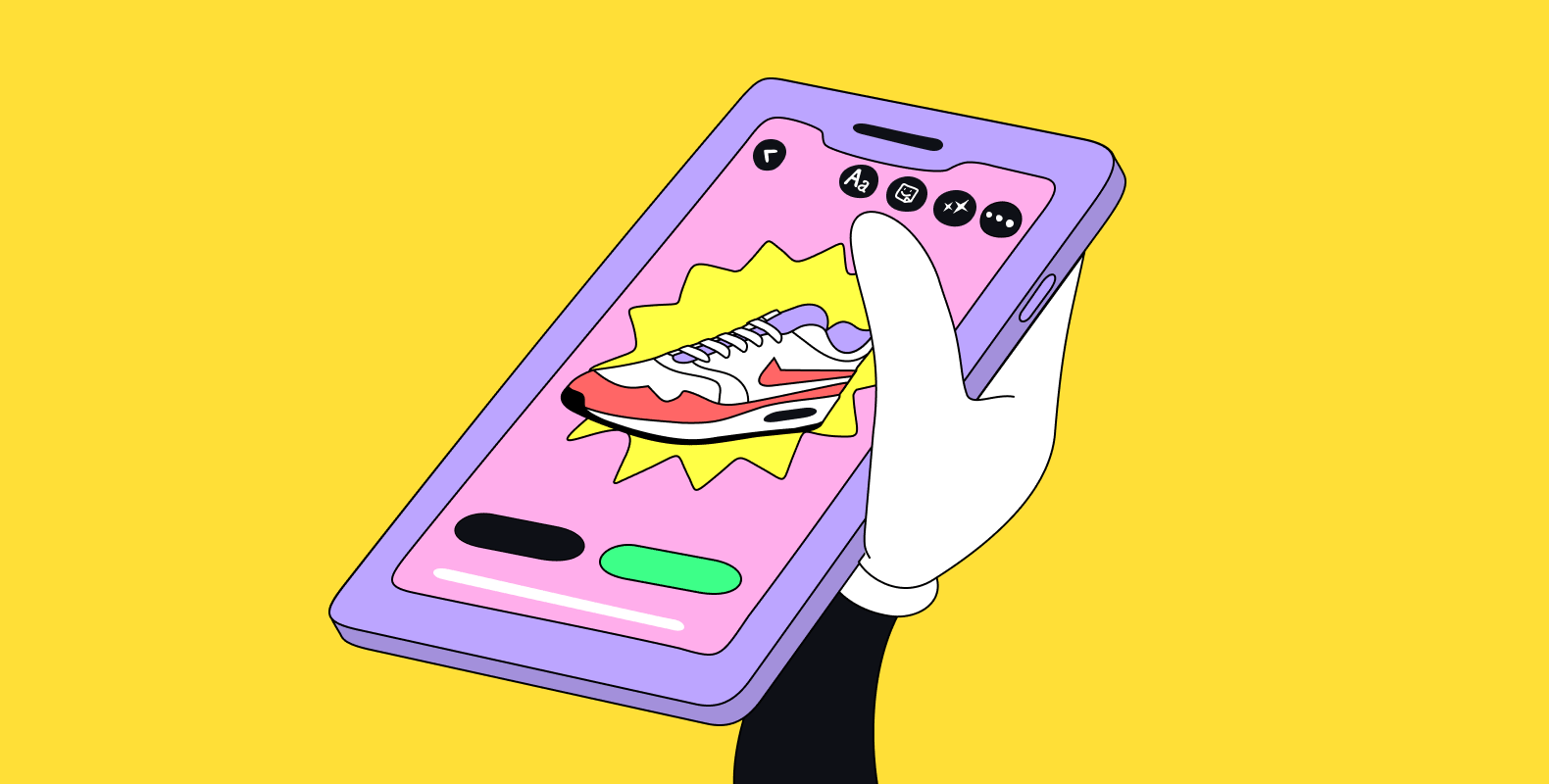 Businesses may use Instagram Stories GIFs to highlight key components of their Instagram Stories, such as a call-to-action or the swipe-up button, in addition to just being a lot of fun. But the cool thing is, by making your own branded GIFs for Instagram Stories, you'll be able to raise brand awareness, get others to post your GIFs, or simply make your own stories look more in line with your brand. Fun, right?
Obviously, businesses are swiftly catching on to this hot new Instagram trend and using Instagram Stories GIFs in a variety of inventive ways. But, the great news is, not many companies have taken the initiative to start their own. Which means this is just another reason to start creating yours. Let me guide you through how to create incredible GIFs and use them in Instagram stories to generate buzz around your brand.
Types of GIFs
If you spend any time on social media (who doesn't?) I bet you have already seen every kind of GIF there is. But in case you haven't, let me refresh your memory on the three kinds of GIFs you can create:
The standard image GIF: this type of GIF can be created by simply using two or more images. It's the simplest kind of GIF but you know how the saying goes, "less is more". So, if your pictures and captions are catchy, that's all you'll need!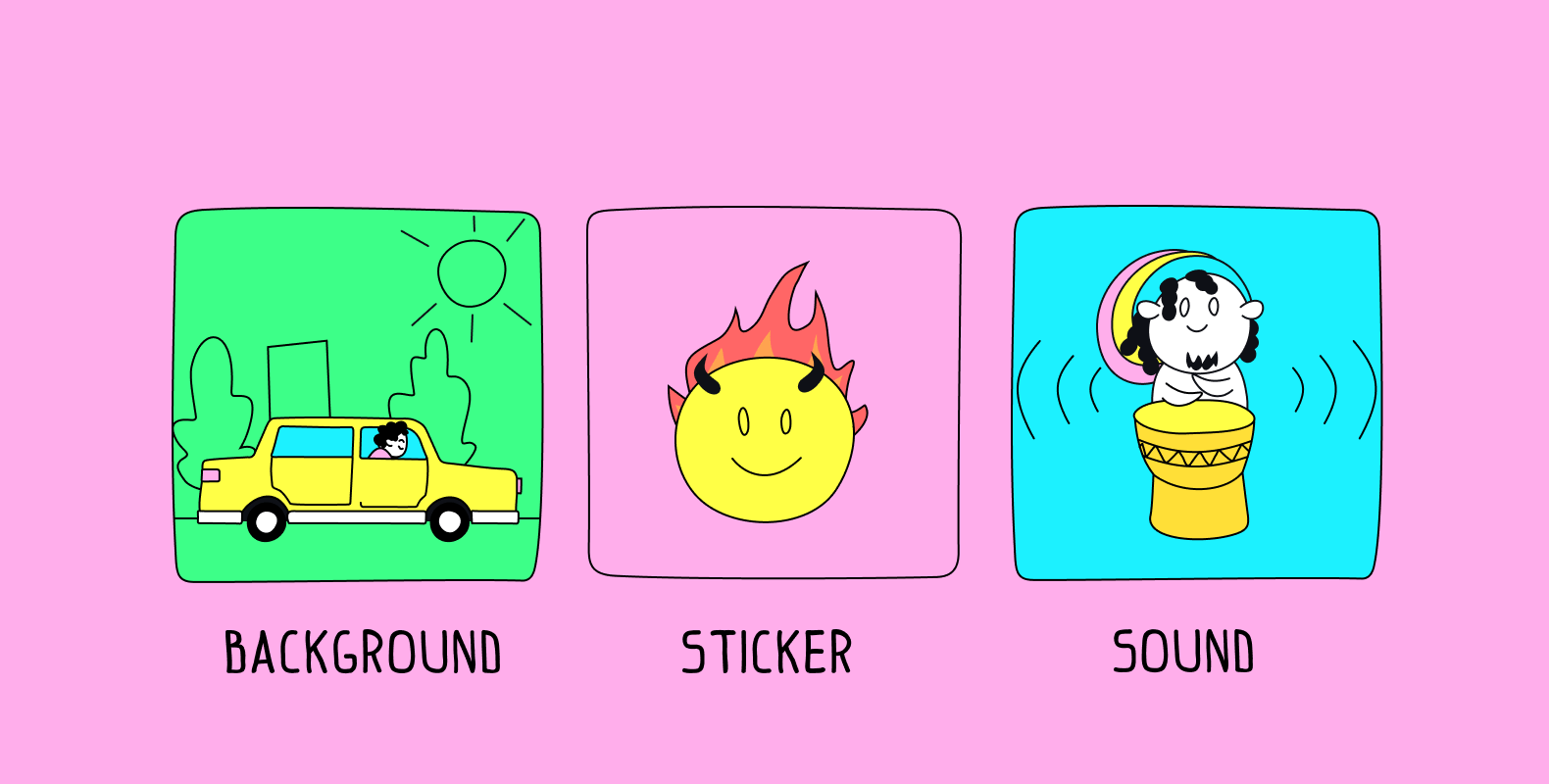 The animated GIF: pretty self explanatory, these aren't static images but animated GIFs which can be of two types:
Animated GIFs with background: yes, you can get an animator to create this type of GIF for you. But, you can also simply use brand videos to create this type of GIF. Simply upload the videos, add captions and voilà, you can transform a video into a GIF.
Animated GIFs without background (called Stickers on Instagram): these types of GIFs have the bonus of being able to be placed on videos and images without looking weird because they have a transparent background! GIFs without a background are made from videos or animations that have been converted into GIFs but have had their backgrounds removed or made transparent. These are the types of GIFs you need to create to allow users to use your GIFs on Instagram.
GIFs with sound (aka GIPHY Clips): this is the most recent type of GIF available. For now it's only available on TikTok but if we know Zukerberg a little, we're certain they'll land on Instagram soon. This format includes sound in GIFs, at the moment it's only restricted to verified accounts who own the sound but they're being used by creators inside TikToks.
How to create GIFs for Instagram
Instagram currently only works with Giphy as a third-party GIF partner. Which means that if you want your GIFs to be searchable on Instagram and used by other users, your GIFs have to be uploaded on GIPHY! Let me take you through the steps:
Apply for a brand channel
Giphy, which powers Instagram Stories GIFs, requires you to create a brand channel to allow your GIFs to be searchable on social media. The good news is that this procedure happens pretty quickly, but the bad news is that small businesses might not be approved because of the verification restriction. Just so you know, you need to have a bit of traction to get accepted. That doesn't mean you need hundreds of thousands of followers, just enough followers and engagement to show GIPHY you're serious!
Upload your GIFs to GIPHY
To get accepted as a brand channel, you need to add five unique GIFs to your GIPHY channel. These could be GIFs or GIF stickers, but you must own the content and it must be of high quality. This is where you need to pay attention: your GIFs must be posted as Stickers rather than standard GIFs in order to display on Instagram Stories. GIF stickers, in contrast to conventional GIFs, are animated GIFs placed on a transparent layer. They're the animated GIFs without background we mentioned before. But how? Simply turning off your canvas's background layer and exporting in the same manner will allow you to convert a GIF into a GIF sticker. Note that at least 20% of the pixels in the first frame must be invisible for the image to register as a sticker.
Follow GIPHY's Sticker best practices
How are you supposed to create Stickers? The best tool is provided by GIPHY themselves—GIPHY Create! With this tool, you can create GIFs and backdrops, then add captions, filters and stickers. GIPHY provides best practices for creating Stickers. Don't forget that Stickers have to move (otherwise there's no point for them), so you have to include at least two frames per sticker. Here's how to use GIPHY's Sticker maker:
Choose "Sticker" from the menu and add a.jpg or.png file
Create an outline for your sticker using our tools, then delete the background
Use the lasso tool to precisely choose the area you want to remove. Select the green circle where you started your cut to finish off your cutout
Click the Magic Wand to eliminate the background
Use the eraser tool to drag a section of your sticker off the page
Use the brush tool to paint portions of your sticker again by clicking and dragging
Choose a motion filter, then click Continue to Animate to bring the character to life
After that, you have the option to add color to the animation's border by choosing a stroke
How to upload Stickers on GIPHY?
Now that your sticker has come to life, it's time to upload it to GIPHY! Once your Sticker is uploaded, it will be searchable on Instagram, Facebook, Snapchat, and other platforms using the tags you select (we highly recommend including the name of your business as a tag, it'll be easier to find it right away when you search for it). Don't get discouraged if you don't see your stickers straight away because all GIF stickers must go through a screening process before they are made available. For best results, make sure your content is appropriate for all age groups so it doesn't get downgraded during their rating process.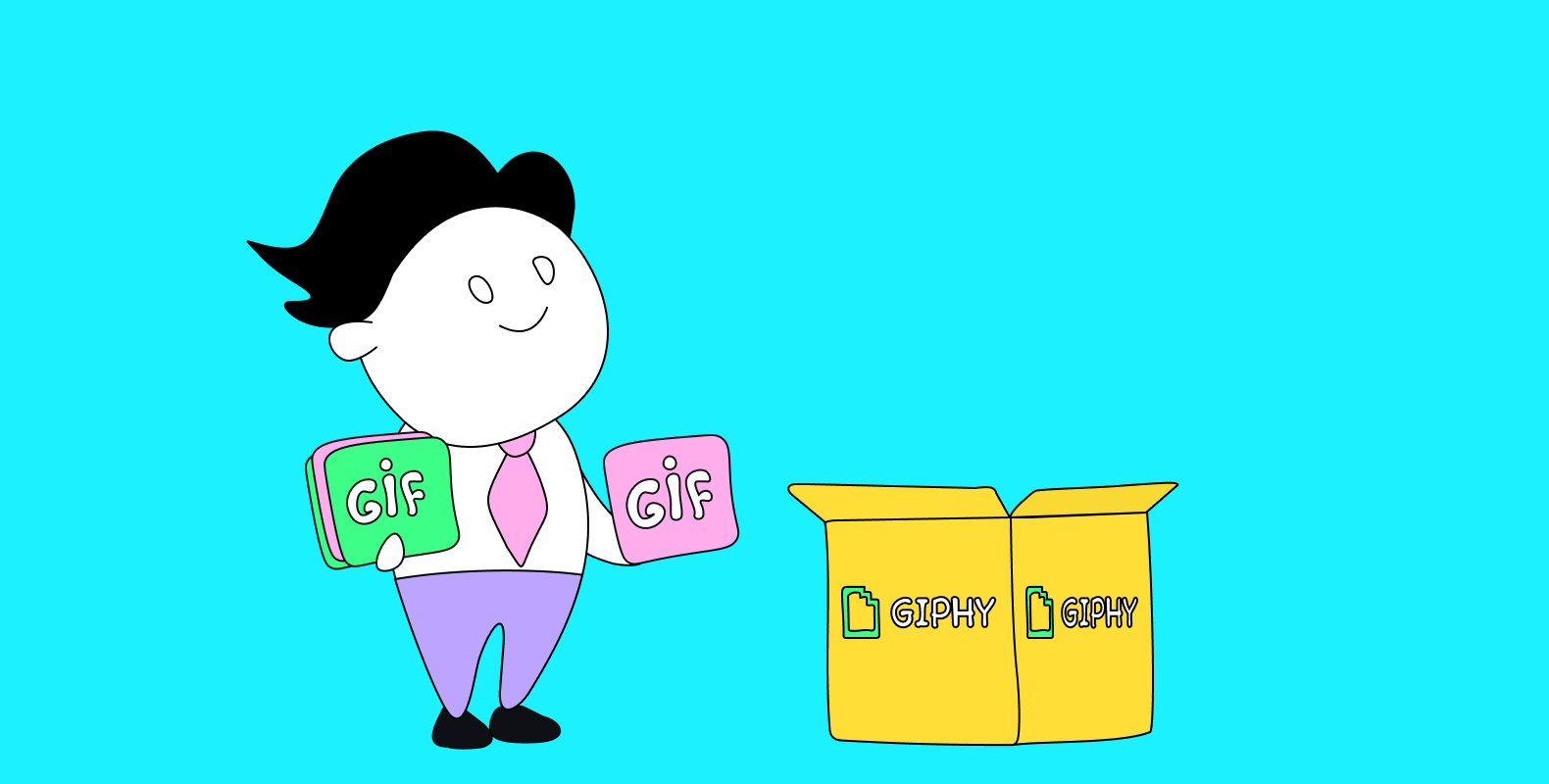 To add content to your GIPHY channel, use Upload.
Drag & drop the media you want to add into your Upload window, click Choose File to explore your files, or enter a legitimate media URL. Find out more about GIF best practices here. You've got a lot of content? Save time by mass uploading instead of one at a time by dragging them all onto the window.
Now one of the most important parts! Add tags to your material, separated by commas, and add a source URL, in case you need to give credit to a source. You can also choose whether a piece of material is visible to the public or not. When you are logged in, only you can see private content, and it cannot be shared. Any changes you make in the "Add Info" area while bulk uploading will be reflected across all of the uploaded content, including any tags you add in the "Add Tags (bulk)" field. By selecting the arrow next to each file and typing text into the field, you can also apply various tags to each individual piece of content.
To complete, click the Upload button. Each GIF can be viewed/edited from its GIF detail page after uploading is complete, and you can view them all on your channel page.
You can post material to your GIPHY channel and share it anywhere, including Facebook, Twitter, Instagram, Pinterest, Tumblr, Reddit, text messages, and emails.
Why brands should create Stickers for Instagram
Social media managers probably know this already but it's fundamental that you need to keep up with the evolution of technology! Because whether you like it or not, our means of communication change with technology! Just think about it, first came phone calls, then text messages, then the emojis. Now we're living in the era of GIFs.
Another thing to keep in mind is that attention spans are becoming more and more of a problem for markets. But since GIFs enable people to swiftly exchange information, they're an excellent tool to combat lower attention spans. Users are attracted to the brief, looping, continuous structure because it gives them immediate gratification. Right on!
Plus, let's not forget that in a world where consumers expect brands to be more authentic, GIFs offer the ideal compromise between professional branding and informal, private social media posts. They are a fantastic method to promote your business identity and logo while also including references to popular culture and shareable content. By posting your favorite GIFs on your brand's social media pages, you may give your followers a glimpse of your personality. This interesting and authentic visual content engages viewers on a deeper emotional level. And you know what that means? Stronger brand loyalty!
Now, as marketers, you'll have to give a lot of thought on where you want to allocate your marketing budget based on which channel will have a better return on investment. From setting up marketing goals to tracking your campaigns and refining your strategy, we know how stressful it is to be you!
But we're going to throw you a lifeline over here by telling you that you don't need to allocate a marketing budget for GIFS! GIF marketing is fantastic because you don't need a big ass company budget in order to have your GIFs go viral!
Adding GIFs or stickers to your social media sites will cost you NOTHING at all. After that, if you've created GIFs that actually resonate with user needs, you'll have the bonus of having users repost your GIFs for you. On that note, GIFs are used by users to express their feelings and emotions to one another. If people share your GIF with your logo on it, you'll probably notice extremely high engagement rates. You will probably never run a brand awareness campaign that is more affordable.
What you do need though is a clear plan on what you want to create. So, when making GIFs for Instagram Stories, think about how people will utilize them most frequently. How would your GIFs enhance Instagram Stories for users? How could you use them to boost engagement with customers? These are the questions you need to ask yourself before you create anything.
What kind of GIFs work on Instagram?
Don't just think of what users prefer using, you should also consider how you want your Instagram Stories GIF stickers to be used by users and followers. People that follow your company on Instagram and have already tagged you in user-generated content or stories would undoubtedly want to add a cute branded sticker to their post as well.
GIPHY gives the following best practices when creating GIF Stickers:
Easy to use in conversation
Appeal to a wide audience.
Universal and easy to understand.
Emotive and covering a wide range of expressions.
The more complex and interesting the animation, the better the sticker.
Timely and relevant.
Colorful, unique, creative and fun!
Useful as an overlay, like accessories or effects
Edges are smooth.
No fine details that might get lost when the sticker is at its smallest size.
Crop the canvas to fit the sticker. Stickers exported with too much empty space in the frame will appear very small when they are uploaded.
Brand logos and overt advertising should be avoided if possible.
But let me give you some ideas on the types of GIF Stickers you should be creating!
Brand logo + keywords
First things first: make a library of GIFs for your logo, slogans, and brand that you can utilize whenever you're coming up with a new story. Additionally, you can make animated GIFs for specific keywords or use animated images like sparkling stars or sparkles to draw attention to them.
Product GIFs
By including a humorous GIF that includes keywords you want your brand to be searchable for, you may transform unremarkable product photographs into compelling visuals. Instagram users don't want to see normal product images, but adding a silly sticker is a quick and easy method to make the goods look interesting and enjoyable.
Giveaways
GIFs are a fantastic method to attract attention while promoting a giveaway or contest. Flashing icons with words like "win," "special deal," or "on sale", "free" immediately draw viewers' attention. There's nothing that excites people more than receiving free stuff. It's a tale as time!
Get people to finish your Stories
Going back to the attention span issue, if you're a business that posts a lot of Stories, you'll surely notice that the number of people who see the initial ones is way more than the amount of people who actually go through the whole story. GIFs can be strategically used to entice people to keep tapping through the remainder of your stories. Squiggly lines and CTAs encourage users to keep scrolling through your storyline.
Response marketing
You know all those Christmas or Halloween branded GIFs that appear in October and December? It's because people love to see how brands get creative throughout the year. In fact, GIFs are a simple way to advertise a variety of events, campaigns, companies, and holidays for your brand. Make sure to create an event calendar so you can plan all the GIFs you need to create throughout the year. If you want to take it even further, don't miss out on creating memes related to your brand based on what's viral at the moment. If you're planning on taking this approach, don't forget to assume an always-on GIF marketing strategy.
How to analyze GIF performance
As with every marketing campaign, monitoring and analyzing results is essential to establishing the tactic's effectiveness, allowing you to gradually hone and enhance your marketing plan.
GIFs on GIPHY and Instagram can be used to gauge audience engagement. Since you have a brand channel on GIPHY, you also have access to analytics! The sole interaction statistic used by GIPHY is GIF views, which simply represents the number of times your GIF has been shown using GIPHY's services or technology. This measure is located on the GIF detail page's lower right side, just below the sharing icons.
While Instagram Insights doesn't allow you to directly track engagement with GIFs, you can run A/B tests on comparable stories with and without GIFs and compare the performance metrics. The key metrics to consider are as follows:
Impact and range
Story elements
exit rate, taps back, and taps forward
the location and hashtag stickers are clicked
Frequently Asked Questions
How do you post a GIF from GIPHY to Instagram?
Posting a GIF from GIPHY to Instagram is easy. First, find the GIF you want to use and copy the URL. Then, open the Instagram app and find the image icon in the lower left corner. Select it and paste the URL into the field. The GIF will appear, and you can add a caption and post it. Alternatively, you can also use the Instagram Stories feature to create and share GIFs directly from the app.
Can I add my own GIF to Instagram Stories?
Yes, you can add your own GIF to an Instagram story. Start by creating a short video or animated image, then use a GIF maker to add text, filters, and other features. Upload the GIF to GIPHY or another GIF library and use the URL to share it via the Instagram Stories feature. You can also create and share GIFs directly from the Instagram app.