Did you know that Spotify and GIPHY joined forces to provide users with a way to connect with artists' music through the use of GIFs? You know what that means? GIFs are an excellent visual tool that adds a new dimension to the way we express ourselves online. The partnership between Spotify and GIPHY has now taken this to the next level by incorporating music into the mix. This collaboration has resulted in the creation of new Spotify-linked artist GIFs, which can be accessed through verified GIPHY artist pages. By clicking on these GIFs, users are transported directly to the featured artist's Spotify page, where they can start listening to the music they love. But this isn't just any partnership, what does it reveal about the use of GIFs in the digital world? Let's figure it out, shall we?
What is Spotify?
This question shouldn't even be legal, I know. If you haven't heard of Spotify, you don't live on planet Earth, but we're nice here and we're willing to walk you through its history. Spotify is a music streaming service that offers its users access to an extensive catalog of songs and other forms of audio content via computers, smartphones, and other portable media players. After launching in 2006, the Swedish-born platform has amassed over 350 million MAU by 2021, making it one of the top music streaming services in the world.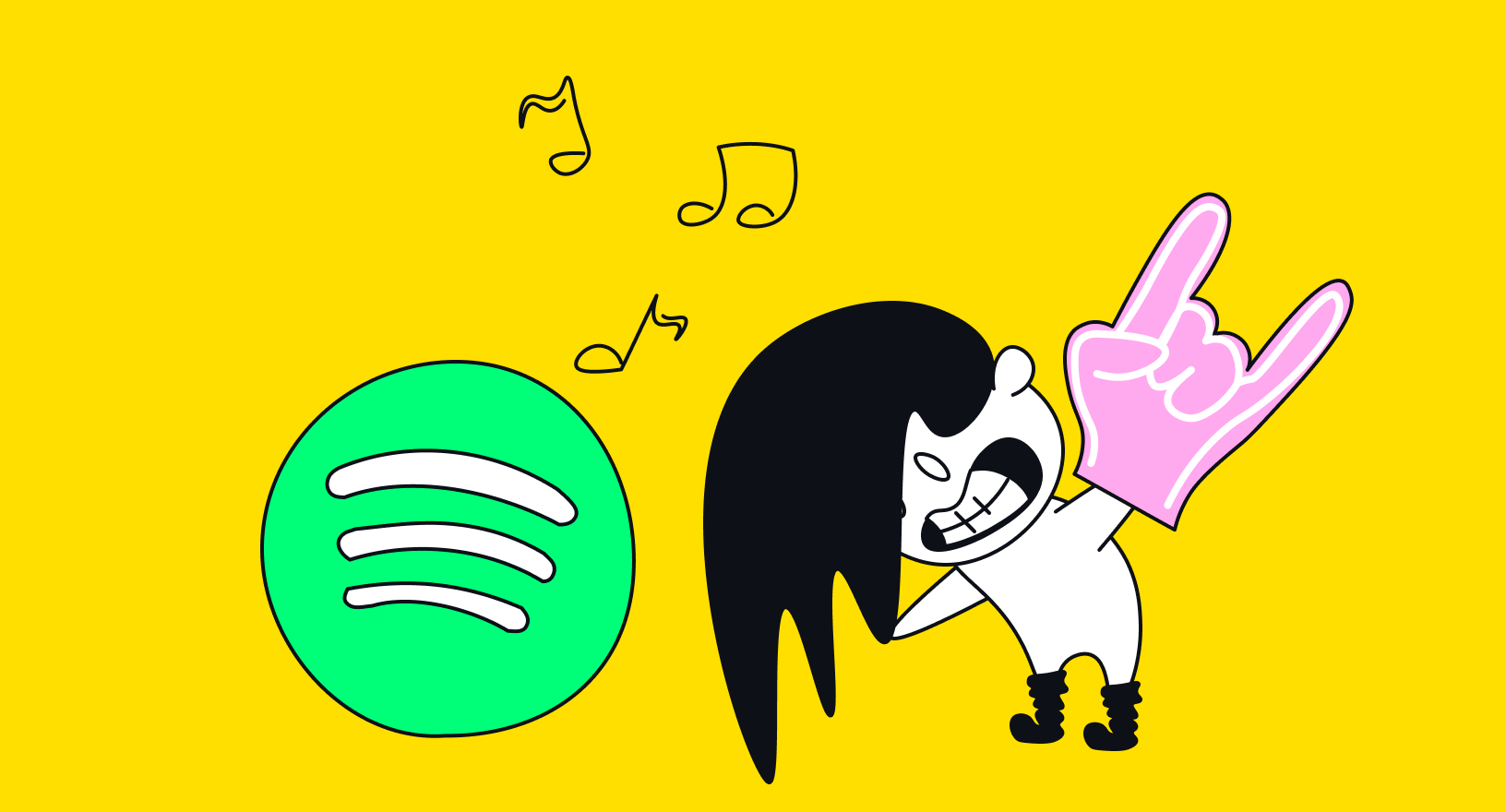 Spotify has many ways for its customers to interact with the service, such as through curated playlists, private podcasts, live performances, and social media. They employ complex algorithms to tailor users' recommendations for new music and other forms of audio material to each individual's taste and listening history. Because of the individualized nature of the listening experience this generates, users are more likely to stick with the service.
Marketing efforts for Spotify typically center around showcasing the service's distinctive qualities and the tailored listening experience it offers users. If you're on Instagram you've surely heard about Spotify Wrapped—it's practically synonymous with end of the year buzz on Instagram. One of their most well-known promotional tools, Spotify Wrapped is a yearly feature that compiles customers' listening data from the previous year and presents them with a customized overview of their listening habits. The report details the user's general listening habits, including the total amount of time spent listening to music on the platform, as well as information on the most-streamed artists, songs, and playlists.
In addition, they routinely partner with other brands and businesses to provide users with innovative new features that enrich their experience. In one of their most recent collaborations with GIPHY, Spotify users may now include GIFs on the covers of their playlists to increase the aesthetic appeal and user engagement of their playlists. With the support of this collaboration, Spotify can keep providing its customers with a fresh and entertaining method to express themselves through playlists, which should lead to more people using and enjoying the playlist function on the service. Furthermore, using GIFs as playlist covers makes them more memorable and shareable, which in turn increases activity on the platform.
Before This Partnership, How Could You Connect With Artists Through Music?
The direct link between GIFs and Spotify artists has brought users and artists closer together and made it easier for users to discover new music. Before this partnership, connecting with artists through music was limited, but now users can use GIPHY to explore new artists and connect with them in a more engaging and dynamic way. Before GIPHY and Spotify teamed up, there wasn't a simple way for music lovers to engage with their favorite bands and musicians. For instance, these were the main channels of engagement:
Radio and TV: The most common ways for fans to hear new music from their favorite bands and watch concerts by their favorite performers were through the radio and television. Although these platforms did allow for some fan engagement, it was little.
Live Concerts: Live concerts allowed fans to watch their favorite performers in person, but since these shows typically took place in enormous arenas, audience participation was limited.
Physical merchandise: Albums, posters, and t-shirts were examples of physical stuff that fans could purchase to show their love for their favorite bands. This allowed fans to show their support for their favorite musicians by purchasing products with the artists' likenesses, but it was not a two-way conversation.
Fan clubs and mailing lists: Some performers set up fan clubs and email lists so their followers could stay in the loop with the latest news and information about their favorite performers. This allowed fans to keep up with their favorite bands without actually having to talk to the musicians.
Social media: Connecting with musicians on a more personal level has become possible thanks to social media sites like Facebook and Twitter. Even though fans could now follow their favorite artists and contact them directly through these channels, the level of engagement remained low.
Prior to the cooperation between GIPHY and Spotify, these were some of the ways that fans could interact with their favorite musicians. The internet and other new forms of media have made it easier than ever for fans to get in touch with their favorite musicians and other creatives in personal and dynamic ways.
The Integration
With this integration, both Spotify and GIPHY offer a unique and exciting way for users to connect with the music and artists they love. Spotify and GIPHY's new integration marks the beginning of the two services' continued partnership. Artists including Doja Cat, The Kid LAROI, Post Malone, The Weeknd, Nicki Minaj, Conan Gray, and more are featured in the integration, which is accessible through GIPHY's web and mobile apps.
Now, here's how it operates: Any musician that has a verified channel on GIPHY may be easily located and their content seen by conducting a simple search for the musician's name. If you click on the GIF you want to use, you'll be transported to a page with further information about that specific GIF. Featured musicians on this page will have a Spotify "deep link" embedded in the sticker or GIF immediately below their content. Tap or click the "Listen on Spotify" button to immediately begin playing the artist's songs. Clicking this link will take you straight to that musician's Spotify profile, where you can listen to their music and find more of the same or similar artists.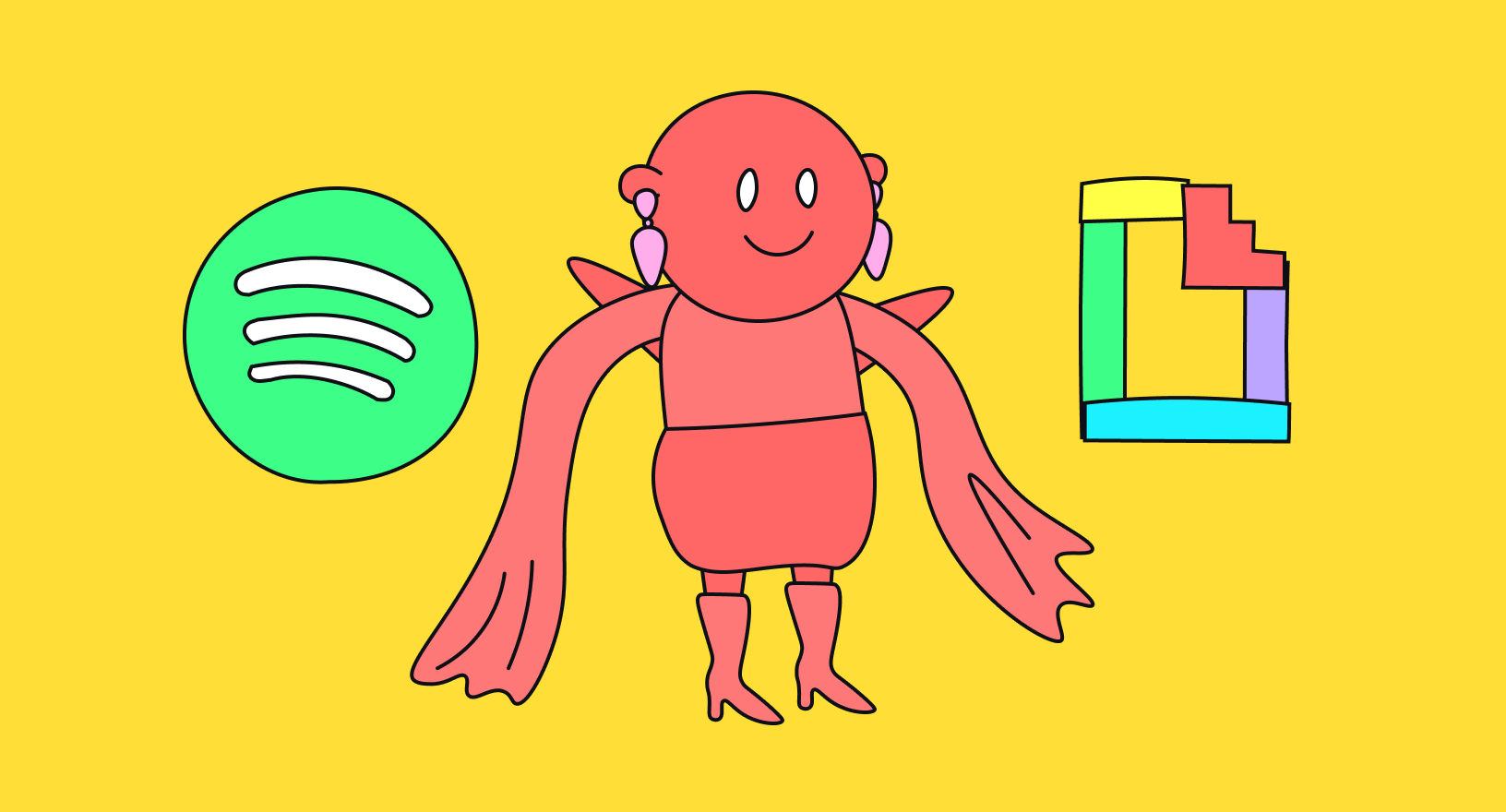 Visit the profiles of launch artists including Doja Cat, The Kid LAROI, and Post Malone to see this integration in action. The use of GIFs by musicians is increasing, and this incorporation efficiently bridges the gap between our listening habits and the visual feedback we provide our favorite musicians. A wider audience can be reached by any artist who has a verified account on both platforms and connects them.
Cross-Promoting and Boosting Engagement
Ok, so it's clear to everyone that in 2021, Spotify and GIPHY formed a partnership so that users could use GIFs as album art for their playlists. But what was the goal of the agreement? To improve the platform by giving users a way to make their playlists more interesting and interactive for other users to explore. Spotify's playlist feature is an integral component of the service, and thanks to this collaboration, the service saw a rise in both overall user engagement and playlist usage.
With the addition of GIFs to Spotify's playlist covers, the service aimed to increase the aesthetic appeal and user engagement of playlists. Adding GIFs to playlist covers is a fun and creative method for Spotify users to share their individuality through their playlists. As a result, people spent more time on the website, trying out different features and listening to more content. When users shared their playlists with friends and followers on social media, they also shared the animated and eye-catching GIFs that they had used as playlist covers, helping to further cement the playlists in their minds and increase the likelihood that they would be shared.
Increased user engagement and usage of the playlist feature, greater social sharing and exposure of playlists, and elevated brand awareness are all likely results of the partnership's beneficial effects on Spotify. It's also important to note that collaborations like this help firms like Spotify stay on the cutting edge of technology and user experience, allowing them to keep providing the kinds of novel features that attract and retain consumers. A precise evaluation of the partnership's results is challenging, however, until more data is collected and analyzed.
To add a GIF to a Spotify playlist cover, follow these steps:
Open the Spotify app on your device.
Navigate to the playlist you want to add a GIF to.
Tap the three dots in the top right corner of the playlist.
Select "Edit Info".
Tap the "Cover" section and select "Add GIF".
Browse through the available GIFs or search for a specific GIF using keywords.
When you find a GIF you like, tap it to select it.
Tap "Save" to apply the GIF as the playlist cover.
Note: It's possible that some places or some devices won't have access to this feature. It's also possible that this feature's availability will evolve over time; therefore, it's best to check the Spotify app for the most up-to-date details.
What Does This Mean For Your Business?
Out of all the partnerships that Spotify could have made, how come it decided to team up with GIPHY? For starters, I think it has to do with the fact that GIPHY is one of the biggest search engines out there, and partnering with them gives Spotify a lot of added traffic. Secondly, GIFs are so ingrained in our cultures, and even artists use them, that it seems like a natural fit. Plus, offering the possibility to add personalized GIFs to user playlists gives users a creative way to personalize their experience, further increasing their stay on Spotify.
In terms of marketing, this is in all of its glory a great cross-promotional partnership. The term "cross-promotion" is used to describe an approach to advertising in which two or more companies advertise one other's goods and services to their respective customer bases. When you think about it, the relationship between Giphy and Spotify is a classic example of cross-promotion: Giphy provides Spotify with access to its library of GIFs and stickers, and Spotify, in turn, promotes Giphy to its massive user base.
Now, I think the question is: if even Spotify is using GIFs as a way to cross-promote and boost its app engagement, what does this say to brands around the world about implementing GIF marketing into their businesses?
That they should definitely be implementing it to boost engagement. The Spotify-GIPHY partnership demonstrates that GIFs may be used effectively as a marketing tool to increase interaction and cross-promotion, as evidenced by the success Spotify has had with this strategy. Businesses all across the world could benefit from incorporating GIF marketing into their operations as a means to have more fun and more creatively interact with their target consumers. But the way in which you should do it varies according to your business. Here's how you can use GIFs to boost your engagement based on the industry you're operating in:
E-commerce: If you own an online store, animated GIFs are a great tool for showcasing your products to potential buyers and giving them a feel for how they function and look in practice. By providing a more interactive and enjoyable shopping experience, this can boost product interest and ultimately, sales. In the case of an online electronics retailer, a GIF can show customers how a new camera shoots pictures, while in the case of a fashion retailer, a GIF can display how a dress flows and hangs. To help online shoppers visualize their purchases, more and more retailers are turning to animated GIFs.
Food and beverage: In the food and drink industry, GIFs may be used to great effect to draw attention to specific products on the menu, display key ingredients, and offer customers a taste of what they can anticipate from the overall dining experience. For the purpose of showcasing the preparation of a meal or the components of a cake, for instance, a GIF can be used in both restaurants and bakeries. Business owners in the food and drink industry can increase sales and improve customers' comprehension of their products by utilizing GIFs to advertise them.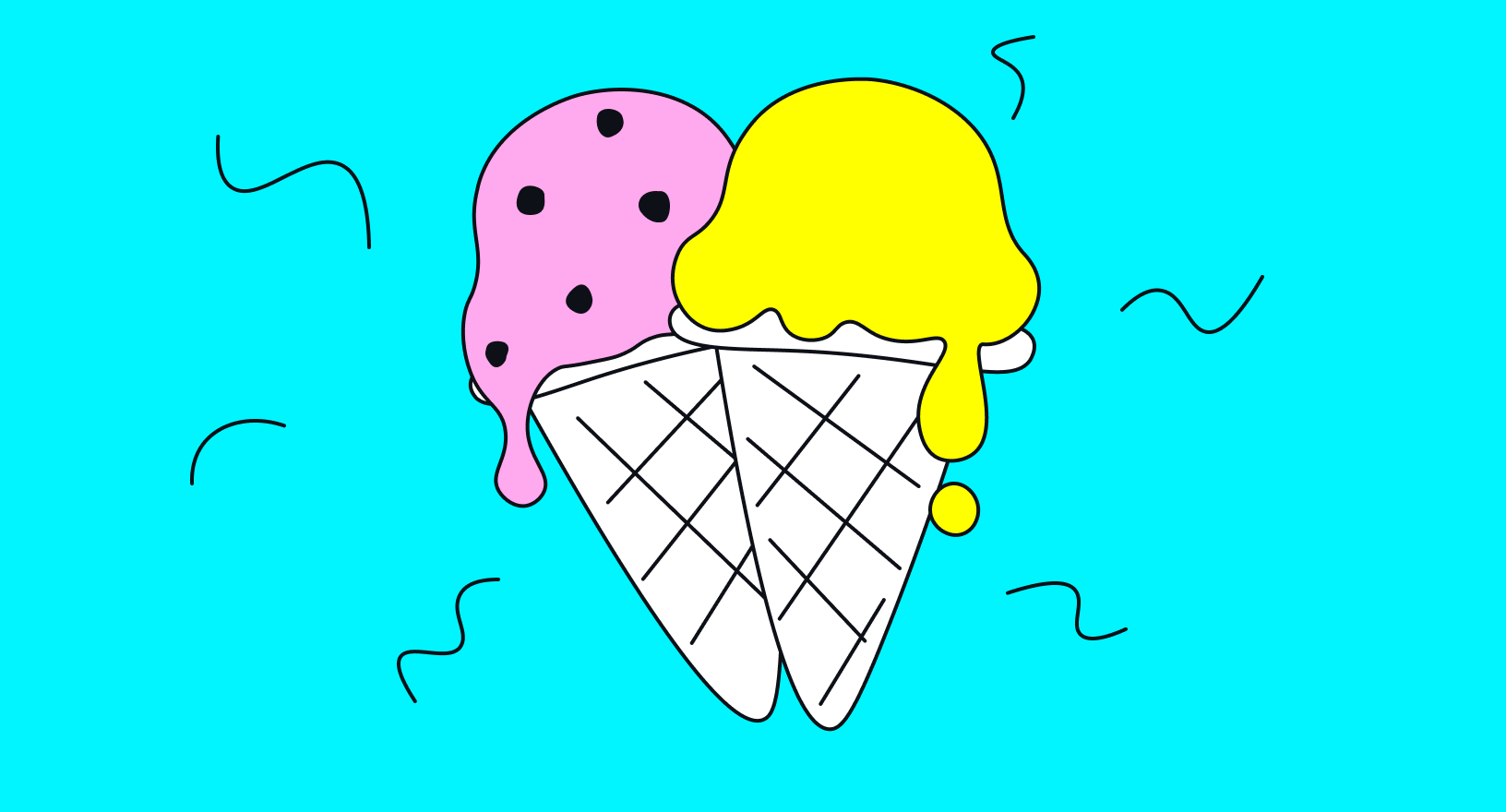 Entertainment: Movie trailers, teasers for major events, and previews of impending releases are just some of the entertainment uses for GIFs. A music festival, for instance, might use a GIF to promote the next lineup of performers, or a film company might use one to promote a scene from an upcoming film. Entertainment companies may generate buzz and interest in their wares with the use of GIFs.
Fashion and Beauty: Makeup lessons, new clothing lines, and customer feedback are just a few examples of how GIFs may be used in the fashion and beauty industries to better connect with consumers. Makeup companies can use GIFs to show customers how to properly apply eyeshadow, while fashion brands can use them to show off models on the catwalk. Businesses in the beauty and fashion industries might benefit from employing GIFs to provide a more engaging shopping experience for their clients.
Technology: GIFs can be used to display new items, demonstrate how to use technology, and provide customers with a better understanding of how products work. In the computer industry, for instance, a GIF may be used to show clients how to make use of a brand new feature on the company's software in a way that's both easy to understand and visually appealing. In addition, IT companies can utilize GIFs to demonstrate the functionality of their goods, giving potential buyers a more complete picture of the product's potential. Companies in the tech industry can increase brand recognition and revenue by leveraging GIFs in this way to have meaningful conversations with their intended audience.
GIFs present an opportunity for marketing since they enable businesses to attract the attention of their target audience and differentiate themselves from the sea of static content that is out there. GIFs are also very easy to share with others and have the potential to become viral, which increases the visibility and reach of brands. Businesses may use GIFs to present their goods and services in a way that is unique and memorable, increase brand awareness, and engage with their target audience in a manner that encourages brand loyalty.
Wrapping Up
In conclusion, GIFs have the potential to be an effective marketing tool for companies across a wide range of sectors. In industries as diverse as e-commerce and entertainment, GIFs help brands stand out from the crowd by attracting the attention of their target audience in a unique and memorable way. Giphy and Spotify's collaboration is a great example of how GIFs can be used as a promotional tool, and it has benefited both companies by giving listeners more opportunities to engage with their favorite music. Users now have a more expressive and interactive method to respond to music on Spotify, while Giphy benefits from exposure to a larger audience for its GIF library. Both companies have benefited from the collaboration, which serves to underline the value of using GIFs in advertising.
Frequently Asked Questions
How do you use GIPHY on Spotify?
Browse GIFs created by your favorite musicians by visiting their personal GIPHY channel, accessible on the website or mobile apps. Visit the performer's verified GIPHY channel and select the GIF you'd like to use. Click the Spotify button on any animated GIF that supports the feature. 
How do you add a GIF to a Spotify GIF cover?
1. Open the Spotify app on your device.
2. Navigate to the playlist you want to add a GIF to.
3. Tap the three dots in the top right corner of the playlist.
4. Select "Edit Info".
5. Tap the "Cover" section and select "Add GIF".
6. Browse through the available GIFs or search for a specific GIF using keywords.
7. When you find a GIF you like, tap it to select it.
8. Tap "Save" to apply the GIF as the playlist cover.