So you say you've tried everything but your customers are still unsubscribing from your email lists? Maybe it's time to try a different approach—GIF Marketing. Did you know that including animated GIFs in your emails will help you create brilliant marketing campaigns? No joke. The term "GIF," which stands for "Graphics Interchange Format," refers to a specific kind of animated graphic that can be attached to electronic messages. Sending animated GIFs in email is a creative and interesting method to get people's attention. Imagine being able to demonstrate an idea or exhibit a new product by substituting dozens of lines of text with a simple GIF.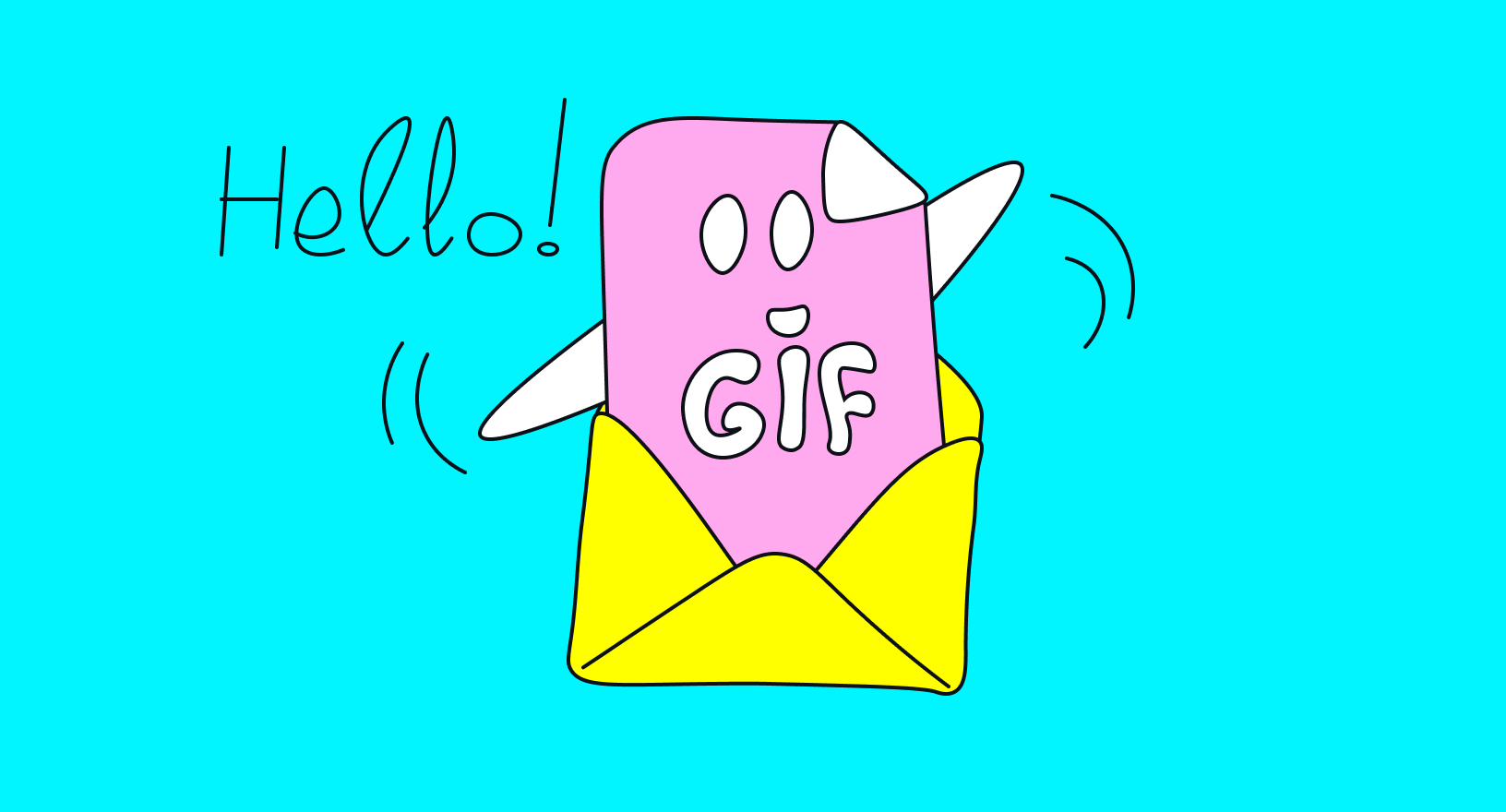 You've surely heard that a picture is worth a thousand words, but Alex Chung, the CEO and Co-founder of Giphy, claims that a well-placed GIF is actually worth 60,000 words! It should come as no surprise that the most successful email marketing strategies frequently include the use of email GIFs. So today, I'm going to enlighten you on the use of animated GIFs in marketing emails. I'll walk you through where you can find the greatest GIFs and how to insert GIFs in your email marketing campaigns. Shall we?
Where to find the best GIFS
Before we explain how to place GIFs in emails, we have to tell you where you can find GIFs in the first place! You can use a GIF search tool to get the best GIF, or you can use a GIF Maker to make your own.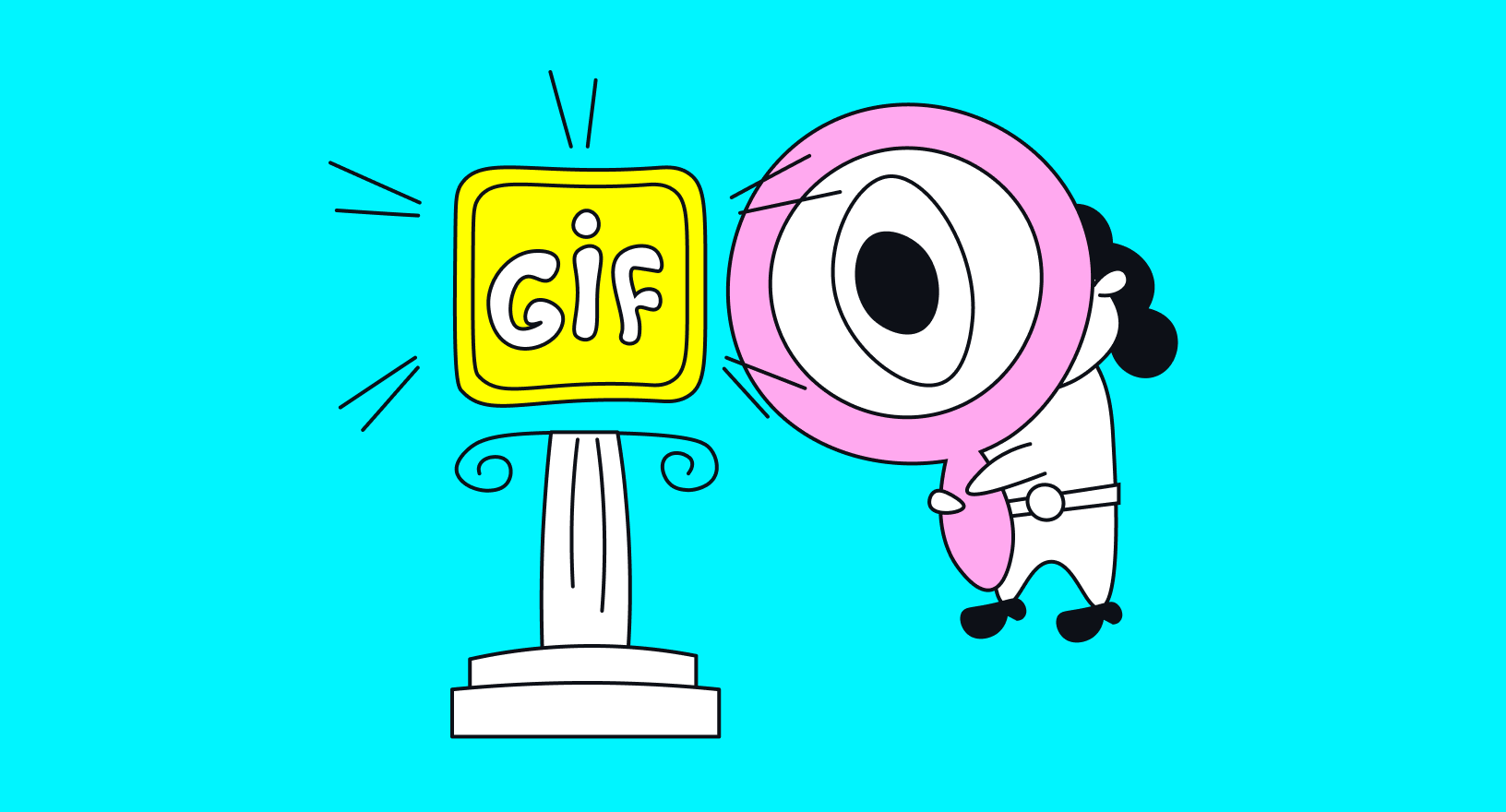 GIF search engines
GIPHY is the top destination for searching for GIFs. Simply enter a word or phrase that best explains what it is that you are looking for into the search box. After that, GIPHY will display the most popular and relevant results from its database of more than 10 billion GIFs. To access the embedding options page for a given GIF, click on that GIF. If you right-click on the GIF, you can save it to your computer for later editing, or you can directly edit the HTML code.
Alternatives to GIPHY that are very popular include Gyfcat, Tenor, and Imgur (which features static images too). But if these don't convince you, check out our list of top 13 websites to find ready-made GIFs. The good news is the vast majority of them can be used without paying royalties. You can find GIFs that are appropriate for business use on social media sites like Tumblr and Pinterest. Google Images can also be used to look for GIFs on the internet.
GIF Templates
It can be hard to find a GIF that satisfies your requirements in terms of size while also being caption-free (so you can add your own). If you use a customizable GIF template, you won't have to spend as much time looking for and changing GIFs that weren't made for the same purpose as you want to use them for. If you like this idea, go to Visme, which has the best free GIF templates.
GIF Makers
GIF maker Visme is also a great go-to when it comes to GIF makers. This is due to the fantastic range of modifiable GIF templates and the straightforward GIF creation tutorial it provides. But if you want to use its best features, you'll have to switch from a free plan to a paid one (downer, I know). Also, you have to upgrade to a paid service if you want to get rid of the Visme watermark. So, here are a few more of the best free GIF makers that make it (almost) easy to make your own GIFs:
GIPHY—using Giphy is the simplest
Ezgif —enables frame-by-frame editing
Kapwing—great for converting videos into GIF
How to add a GIF in Gmail
Before you follow these steps to embed a GIF in a Gmail message, you'll need to select a GIF to embed.
1. Download the GIF: to save the GIF to your computer's desktop, right-click on the image and choose "Save image as."
2. Add an Image: create a new draft of the email you want to send, then click "Insert photo" from the options menu. Select "Inline" from the list of available options. Click "Choose photos to upload", or just drop your GIF from your desktop into the space provided in Gmail.
3. Send out your GIF email: toss in your GIF, it can be resized to fit your needs. Complete your message and voilà, hit the send button.
How to add a GIF in Microsoft Outlook
Now it's Outlook's turn! To make this easier, make sure you have the desired GIF on hand before beginning this tutorial!
1. Download the GIF: right-click the GIF you want, then choose "Save image as," and the GIF will be downloaded to your computer's desktop.
2. Add an Image: in the desktop version of Microsoft Outlook, start a new message, go to the Insert menu, and select "Insert Picture" to add an image to the message. If instead you're using the web version, create a new message and choose "Insert Picture Inline" on the ribbon.
3. Send out your GIF email: you should upload your GIF. Adjust the size to suit your needs. Complete the message you were composing, then hit the send button.
The step-by-step guide to embedding a GIF in an email campaign
The majority of email service providers do not make it simple to create and design individualized emails for their customers. An example of this would be the laborious and time-consuming process of writing and distributing a newsletter using Gmail or Outlook. With a professional marketing tool such as Mailchimp, ActiveCampaign or Sendinblue, the time it takes to launch your campaign will be cut down from hours to minutes, saving you time and money.
1. Opt for an existing email format: make your first step easier by beginning with a template that has already been created.
2. Position one or more Image Blocks: you can indicate the location where you wish to add your animated GIF by using a placeholder picture in the form of an image block. To resize your image, select the image block, and then drag the edges of the block.
3. Publish your GIF file: next, pick "Replace Image" from the menu on the side of your dashboard and then click on the image box that you had previously inserted into your template. Choose the GIF you want to upload from your computer, then drag it into the area designated for images. The GIF that you submitted will continuously play without stopping.
Most email marketing services provide you with access to a wide variety of additional tools. You have complete control over the design of every part of your email campaign, including the ability to preview messages before sending them and make use of sophisticated tracking metrics.
7 ways to put GIFs in your email marketing campaigns
The most effective technique to convey a lengthy message or visual guide is through the use of GIFs. You can anticipate a higher level of interaction as a result of the increased distribution of GIFs across social media.
1. Promote a sales campaign
The typical mailbox receives a constant stream of promotional emails throughout the whole year. Email marketing is still very lucrative, with an incredible return of $36 for every $1 invested. This is despite the severe rivalry that exists in the industry. Using an attention-grabbing promotional GIF banner, you may encourage clients to go through to your offers page and take advantage of the deals you have to offer. Keep in mind that pictures come first before words. Your audience will "read" the picture before they have comprehended what you have written in the text.
Example: A little animation may liven up your email campaign and make a big announcement or event stand out. To advertise its pop-up parties, at which subscribers may receive free coffee, Starbucks created an original animated GIF.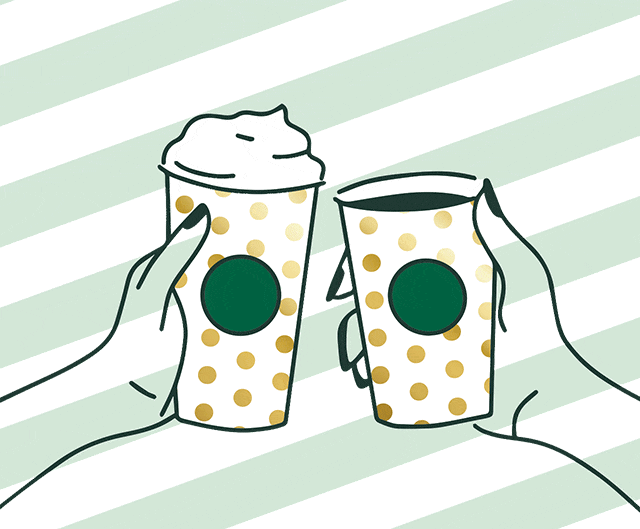 2. Develop your very own meme (and watch it spread like wildfire!)
Check out what people are talking about on social media and draw ideas for your own GIF banners from the visual signals that are being shared. Think about putting your own take on a meme or issue that's currently hot online. Find a meme that you like, add a product photo or pricing label, and then add a humorous caption to bring everything together for the quickest method to make your own GIF email banner. You can accomplish this by utilizing an online picture alteration service.
Example: An email campaign that was launched by Hawthorne on the eve of a new season of Stranger Things, an extremely popular series on Netflix, was a wonderful example of how to accomplish this task.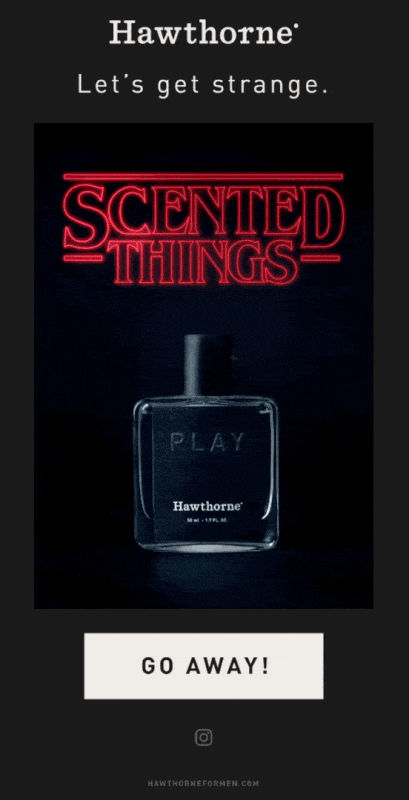 3. Compose a concise how-to tutorial
Reading through lengthy how-to guides is not enjoyable for anyone. But, a step-by-step tutorial that can be read in a single glance will appeal to practically everyone. If it takes more than two minutes to read an email, the vast majority of your consumers will find that they do not have the time to get through it. A quick GIF that tells the buyer everything they need to know in just a few seconds will be very well received.
Example: Apple recently emailed customers with instructions on how to streamline their iTunes memberships. A GIF, as displayed below, was included in the email to let recipients quickly and easily access the desired options.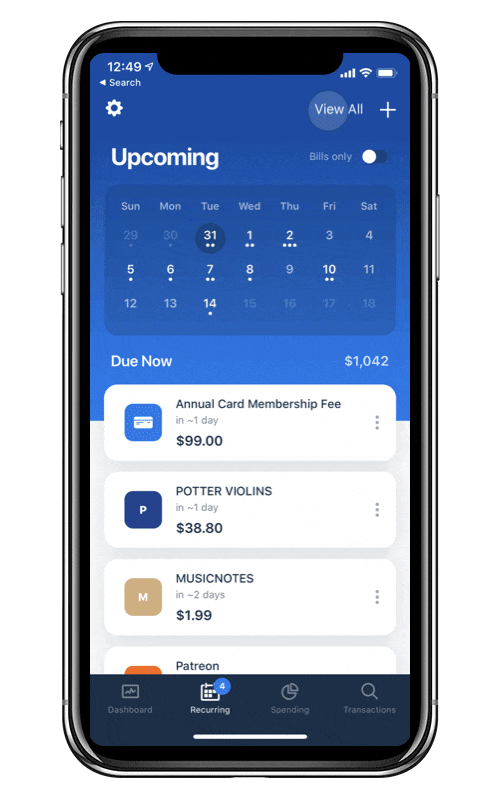 4. Debut a brand new feature
Your clients will appreciate the time you save them by converting a few pictures or a product video into a GIF. This will also make it easier for them to understand how your product functions. Product update GIFs are very helpful for organizations operating in the SaaS market; nevertheless, their use is not limited to this sector and may be applied to any commercial setting in which something novel is being launched.
Example: Adobe used a GIF to add motion to their email and spread the word about one of their coolest product features. The tool's efficacy was instantly obvious to their subscriber base. This could strengthen the trust and commitment of Adobe's current clientele. And the "wow factor" of the demonstration was certainly enough to win over many prospective buyers.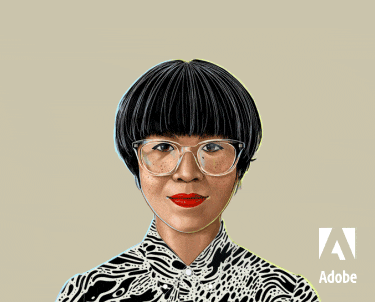 5. Provide a hint about an upcoming release or offer
It is a smart strategy to tease your clients about an imminent product launch or content that will soon be made available to them. Free press coverage can also be easily obtained through the use of promotional teasers. There will be more time for media outlets and influential people to examine previously released information and provide their perspective on what to anticipate next. Your approaching release will generate a lot of excitement if you have a GIF that has been cleverly produced, even if it's just a mockup.
Example: The tongue-in-cheek email that Havenly sent out to their clients was intentionally vague and left nothing to the imagination about what the company had in store for them.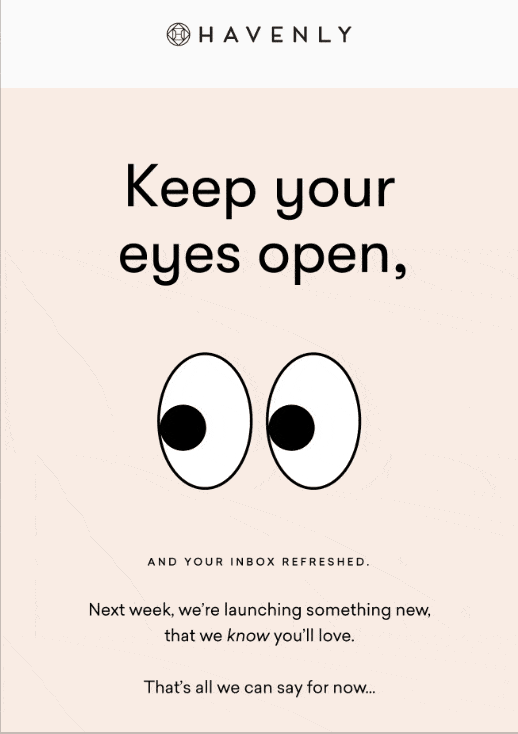 6. Respond to incoming emails from customers.
Emails sent to customers do not always need to be stiff and uninteresting, on the contrary! In the vast majority of instances, an encouraging email has a considerably better chance of being remembered and acted upon. You might want to try incorporating GIFs into your email automation. You can win back both new and old clients by using comedy in appropriate doses.
Example: take for instance the streaming service Hulu. It is a stroke of pure brilliance to combine a funny happy birthday GIF with a promotion for a free trial. This is not your typical "happy birthday email;" in fact, it's much more than that.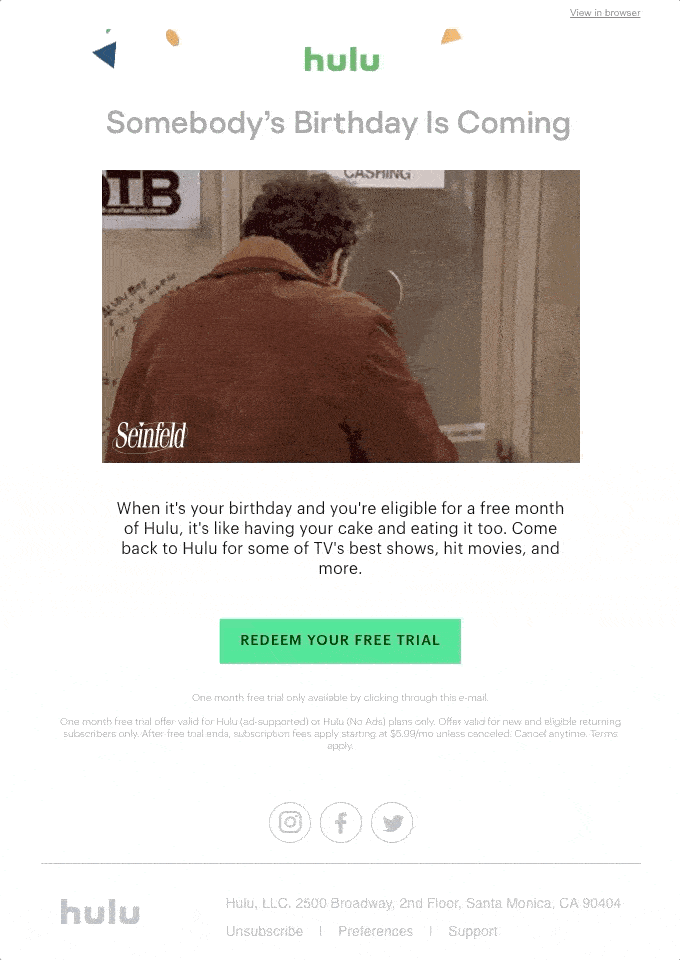 7. Make animated versions of graphs and infographics
When you need to animate aspects of a presentation, GIFs are the quickest and easiest solution available. You also have the option to export the presentation as a GIF when using Powerpoint. The slides will be broken up into separate frames one by one. Converting more prospects into customers is as easy as demonstrating the usefulness of your offering and the potential benefits it could bring to the businesses in your target market. In the event that you would rather not use PowerPoint, there are applications available, such as Canva, that make it simple and quick to generate your own animated charts and then export them as GIFs.
Example: Grammarly, for example, notifies its users in their Grammarly Insights chart of the total number of grammatical changes they've implemented in their writing.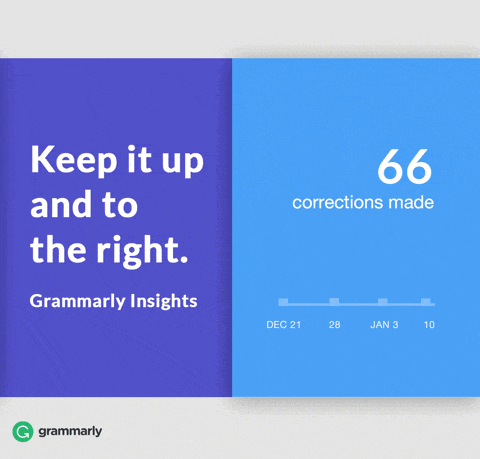 Best Practices for Utilizing Animated GIFs in Email
Let's go through some of the best practices for using GIFs in email so that your GIF marketing strategy will be well-prepared.
Combine your GIFs with a call to action
Use GIFs that clearly identify buttons or that show the user where to click in order to direct your clients in the direction of the action you want them to do.
You should only animate a little portion of your GIF
There are two primary considerations to take into account when deciding which components of your GIF should animate. It brings the size of the GIF file as a whole down, maintaining it at a level where it may be easily distributed. In addition to that, it maintains a sense of excitement without going too far. When used appropriately, GIFs can provide an aura of joy to the messages you send through email. They make it easier for you to express your tale visually, which in turn helps you capture the attention of your audience. It has been shown that visually appealing content can enhance the urge to read it by as much as 80 percent.
Give your product or service a character
To even convince people to open an email, let alone read it all the way through, requires a significant amount of effort. A glitzy logo is not enough to make a brand memorable on its own. It is the story of how your brand came into being and the role it plays in the world.
Create interactive GIFs using your images
Images that are not moving are not as effective in conveying a narrative as moving pictures are. Do you remember how much more entertaining it was to read the talking newspapers in Harry Potter than the mundane ones in real life? GIFs allow you to communicate the story of your business while also assisting you in providing space-efficient explanations of complex ideas. Each animated GIF that is included in an email shouldn't just blend into the background; rather, it should serve a specific purpose.
Remove any videos that are incompatible with the recipients' email clients
GIFs are a fantastic substitute for videos that may be used in emails because they tell your message without consuming an excessive amount of the recipient's data (if they are viewing the email on their phone). While the majority of webmail providers do not permit video embeds in email, all of them support GIFs, and some of them even promote using them.
Frequently Asked Questions
Can I use GIFs in marketing emails?
You can, and you absolutely should. Including GIFs in your email marketing strategy has many advantages, including increase interaction, broadening your reach, and raise your email's CTR.
Do all email clients support GIFs?
Animated GIFs are supported by all major email clients, although not all of them provide the same user experience. You need to be mindful that your readers don't lose out on anything due to user variety in things like screen size, internet speed, and the ability to disable GIFs in Microsoft Outlook.
How do I optimize a GIF for email?
1. Combine your GIFs with a call to action
2. You should only animate a little portion of your GIF
3. Give your product or service personality
4. Create interactive GIFs using your images
5. Remove any videos that are incompatible with the recipients' email clients